Mother-Daughter bonds are something diverse from all relations. All the mother is the best friend of her daughter. No one can understand a daughter more than her mother. Even if you oppose with your mother over something, it is only a mother to whom you can reveal everything. A mother teaches her daughter a lot of things starting from a walk to manage relationships in life.
Here are some famous mother-daughter relationships given below:
These mothers not only had flourishing and gratifying careers in Bollywood, but they also helped their children build a career in the glamour industry.
Alia Bhatt and Soni Razdan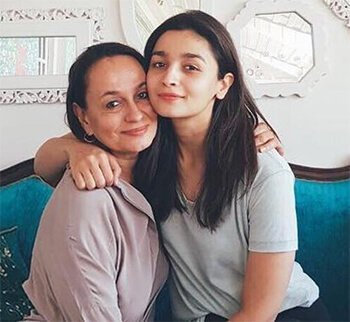 Today Alia Bhatt is a successful and fabulous actress of Bollywood. Besides acting, she did various modeling tasks. Apart from all that, she has great singing skills. Soni Razdan is a popular actress and film director. According to Alia Bhatt, her mother is a superwoman, super mother, and true friend. She loves to spend time with her mother. Soni said Alia is a natural and delicate actor. She is entirely focused on her work and does not waste her time doing other things. She also added that they are alike in that way. This mother and daughter not only have great bonding but also resemble each other.
Amrita Singh and Sara Ali Khan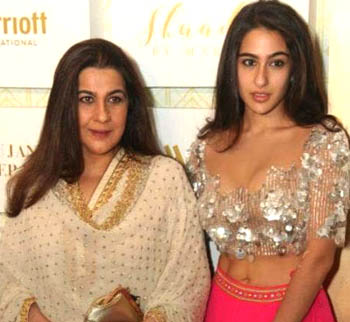 The striking actress Amrita Singh of '80s gave up her acting profession after she got wedded to Saif Ali Khan in 1991. And now, she is back to acting in chosen films. The youngster Sara Ali Khan carries an incredible similarity to her mom Amrita and looks very promising. They spent quality time together like shoots or public events. This mother-daughter pair exudes class and fashion with comfort. Additionally, before the cast, she had emerged on the cover page of 'Hello!' magazine with her mother.
Tanuja and Kajol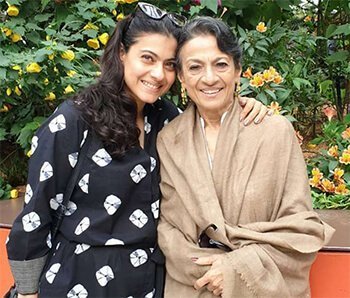 Tanuja Mukerji is one of the most skilled actresses of Hindi Cinema in the 1960s and early 1970s. She has given the industry one of the most famous and versatile star Kajol. Besides an actress, Kajol is also a great social worker. Even she received a Karamveer Puraskar award in 2008 for this. Both of them are very close to each other and spend a lot of time together. Tanuja and Kajol celebrate the famous Bengali festival of Durga Puja together every year. Kajol said her mother is one of the most forward-thinking women. She brought her up with a lot of courage.
Sharmila Tagore and Soha Ali Khan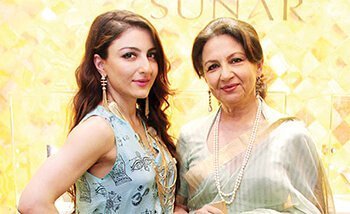 The gorgeous actress of the days of yore had already set the touchstone for her lovely daughter Soha Ali Khan. Sharmila Tagore has won two National Film Awards and two Filmfare Awards for her incredible works. Soha admits that her mother is a superstar and the biggest compliment is when her mother sees her movie and proffers an exact view. Relating to the royal blood of Nawabs, they have continually stood out. Soha stays true to her noble and exudes royalty, just like her mom.
Bhagyashree and Avantika Dasani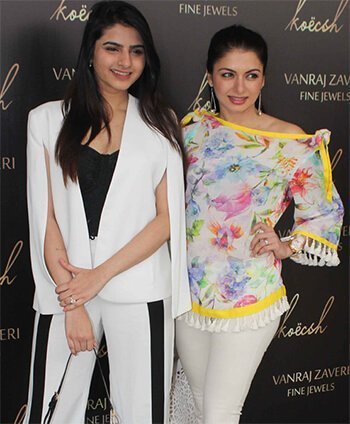 Actress of yesteryear Bhagyashree is back again, not for any movie but for her daughter Avantika Dasani. Bhagyashree made her Bollywood première in the superhit movie 'Maine Pyaar Kiya' from which she became a big star. She also got the Filmfare Award for Best Female Debut for this film. She has appeared in the Kannada, Marathi, Telugu and Bhojpuri films too.
Avantika Dasani places her mother as her best friend and usually traveled beside her mother when Bhagyasrhree is needed to promote movies. She frequently appears on her mother's social media and has gained the name of "one of the hottest daughters in Bollywood."
They both look stunning. Now, it seems like Bhagyashree's daughter is moving to enter the list of star kids to make Bollywood debut shortly.
Therefore, in conclusion, we can say that words can not express the unconditional love between a mother and a daughter. A mother is the most influential person in the life of her daughter. If you want you can also build a robust relation like these celebrities.