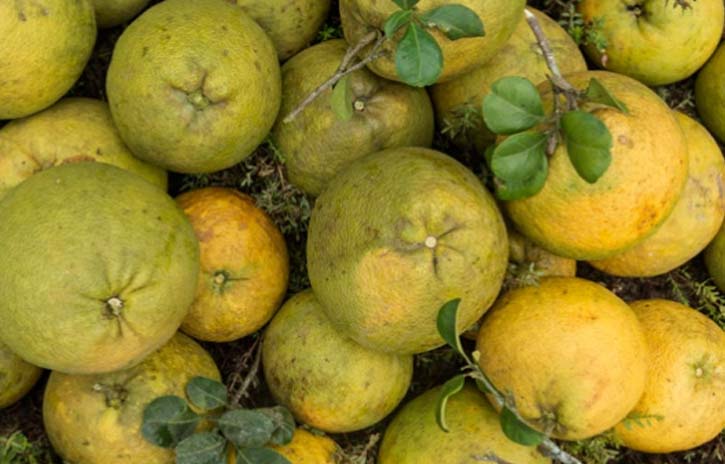 Pomelo is a citrus fruit which is also known as Chinese grapefruit. Local to Southeast Asian countries, pomelo is now obtainable in most sections of the world. It is rich in nutrients, including vitamin, mineral, and organic content like- vitamin C, potassium, vitamin B1, vitamin B6, magnesium, and dietary fiber. The pomelo fruit is sweet and tart in taste and it also possesses a bunch of benefits.
Look at the benefits of pomelo below:
Weight Loss
Pomelo is a low-calorie fruit. Protein and fiber-possessing foods help create feelings of fullness. Pomelo contains both that helps to feel full for a longer time. Thus it is easier to lose weight with the help of these fruits.
Good in Pregnancy
Pomelo fruits are good for pregnancy. It contains a good source of folic acid that can decrease the risk of fetal birth injuries. It has a great source of vitamin C that helps to strengthen the immune system and also protects from cold infections. Holding a good source of fiber, it also helps to relieve common pregnancy problems such as indigestion and constipation. Besides this, it also strengthens the body cells and protects them from ailments. Pomelo is amazing if taken in the correct quantity and under specialist guidance.
Controls Blood Pressure
A good source of potassium is present in the pomelo fruit. It helps to regulate blood pressure and also lessens the chance of heart attack and stroke.
Anti-Aging Qualities
The high amount of vitamin C found in the pomelo fruit helps in preventing premature aging, like wrinkles, sagginess, and age spots.
Hair Health
Pomelo fruit contains essential nutrients that help to promote hair health. It aids in preventing dandruff and also enhances the quality of hair.
Skin Lightening
The Pomelo fruit is rich in vitamin C, which helps in skin lightening and brightening. It is also excellent for controlling skin pigmentations and healing dark underarms.
Healthy Teeth and Gums
Lack of vitamin C can cause weak gums, which can result in tooth loss and bleeding gums. An excessive amount of vitamin C present in pomelos helps in making the gums stronger and also keeps teeth problems at bay.