Whether it is to make guests happy or to enjoy the winter season, pakoras go on every time. But the fact that eating pakoras in winter is something special. We can call it winter's best friend. Crispy and spicy pakoras are an all-time favorite to all. Pakoras are easy to make and also delicious to eat. Its taste level becomes high when accompanied with tea or your preferred chutney.
Here are some pakora recipe is given below:
Radish or Muli Pakora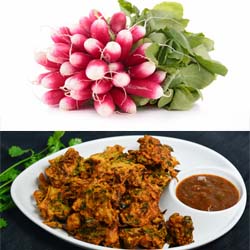 Ingredients
Grated Radish with leaves
Gram Flour (Besan)
Rice Flour
Chopped Coriander Leaves
Grated Ginger
Green Chili
Lemon Juice
Salt
Oil
Pinch of Turmeric
Method
Firstly, wash, peel, and grate the radishes then add fresh coriander, green chili, ginger, salt, turmeric, lemon juice, rice flour, gram flour, and mix well. Then make small balls and fry pakora in the pan in hot oil on medium flame. Finally, take them out, serve, and enjoy.
Raw Banana Pakora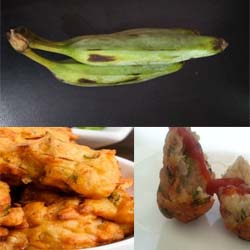 Ingredients
Boiled Raw Bananas
Rice Flour
Gram Flour
Baking Soda
Green Chili
Salt
Coriander powder or fresh coriander leaves
Jeera Powder
Turmeric
Method
Firstly, take boiled bananas then add rice flour, gram flour, baking soda, green chili, salt, coriander powder, jeera powder, turmeric, and salt to it. After mixing all the ingredients properly, fry pakoras until golden brown, then have it with chutney or sauce of your choice.
Capsicum Pakora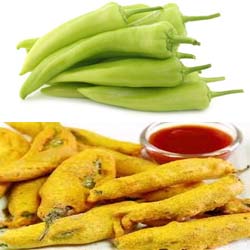 Ingredients
Capsicums
Boiled Potatoes
Onion
Grated Ginger
Besan
Red chili Powder
Turmeric
Salt
Water
Method
Firstly, take a bowl and add besan, red chili powder, salt, turmeric, and water. Then mix all these ingredients and make a smooth batter out of it and keep aside. After that, for stuffing, fry the onion in the pan over the medium flame, then add ginger, boiled potatoes, chili powder, salt, and cook for approximately 5 minutes.
Then make a slit from one side with a knife along the length of the chili. Besides this, remove the seeds and membranes properly. Later, fill the capsicums with the potato stuffing.
Then coat the stuffed capsicums into the batter and place it into the oil and fry. Then take out the chili peppers from the oil and place them on a paper towel to absorb extra oil and serve hot.
Cauliflower or Gobi Pakora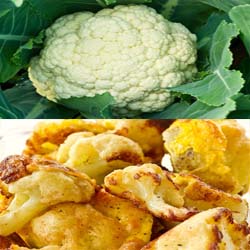 Ingredients
Boiled Cauliflower or gobi
Ginger- garlic paste
Turmeric
Salt
Besan or gram flour
Red Chili Powder
Method
Firstly, take besan, salt, turmeric, ginger-garlic paste, and chili powder in a bowl and mix it well to get a creamy batter. Then take some boiled cauliflower florets and coat them into the mixture from all sides. Fry it till light golden color and serve hot with your favorite dips or tea.
Teasle Gourd Pakora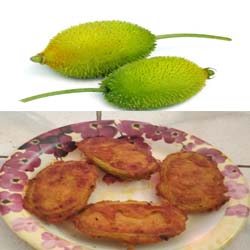 Ingredients
Teasle gourds
Green chilies
Grated Coconut
Mustard seeds
Salt
Besan
Oil for cooking
Method
Firstly, cut the teasle gourd into half and boil them with a little salt. After the boil, scoop out its flesh and seeds.
And for stuffing, take mustard seeds, green chilies, coconut, and also the gourd's fleshes and seeds for grinding to get a smooth texture. Then saute the mix with a little oil until the mixture is dry and fill the scooped gourd with the mixture.
Lastly, make a batter with besan, salt, and water. Add a spoon of hot oil to the mixture so that the fry become crispy. Then dip the teasle gourds in the batter and fry. You can serve it tea or coffee. It can also take with hot Rice.
Bread Pakora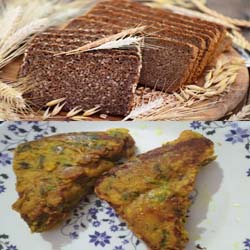 Ingredients
Brown Bread
Boiled Potatoes
Onion
Coriander Leaves
Green Peas
Gram Flour
Baking Soda
Red Chili Powder
Green Chili
Salt
Turmeric
Method
Firstly for the filling – Add onion, green peas, coriander leaves, green chili, and salt into the boiled potatoes and mash well in a bowl and stir-fry.
Then take gram flour, baking soda, salt, red chili powder, turmeric, finely chopped coriander leaves, little water, and make a thin batter.
Lastly, take bread slices and spread the potato mixture into it evenly. Then cover this stuffed bread with another bread slice and smoothly press and cut it into a triangle shape. After that, dip the slices in batter and fry till they turn into golden color. Now your bread pakora is ready to eat and you can serve these tasty pakoras with sauce. Besides this, you can also enjoy these pakoras with mint, tamarind, or coriander chutney.