This dish is the most loved and demanding desserts in Bengali homes for any events. In Indian culture, whether it is a birthday bash or the first food that child eats is incomplete without this. This sweet dish is quite simple and tastes yummy. It is an astounding dish that people of all age groups likes it. Besides this, puri, roti, and puffed rice is the best combination with this.
Ingredients for Date Palm Jaggery Rice
Rice soaked and drained 1/2 cup
Powdered Jaggery 3 cups or ( as per your taste)
Milk: 1 liter
Green cardamom powder: 1/2 teaspoon
Cashews: 10-12
Raisins: 2 tablespoons
Bay Leaf: 1 or 2
Saffron strands: 4 to 5
Step by Step Preparations for Cooking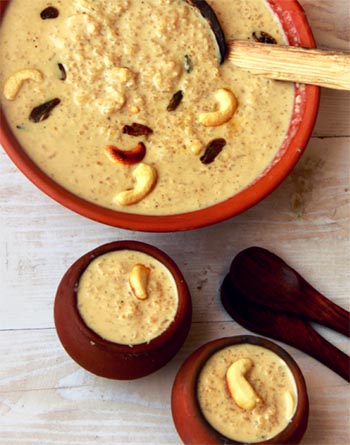 Saute cashews and raisins till slightly browned. Transfer them into a bowl.
Take milk in a vessel and bring it to the boil first. Add the bay leaf and the cardamom powder.
Boil milk till it reduces slightly or thickened a bit.
Now gently add the soaked rice and stir continuously. Cook it on a low flame till the rice become soft (Rice should not be overcooked).
At this stage, switch off the heat and add the date jaggery and sauteed cashews and raisins. (Separately add a scoop full of milk to the jaggery, dissolve it thoroughly and then add to it).
Now mix it well and on a low heat keep on stirring till the jaggery melts completely.
Take the kheer into a serving bowl.
Then, garnish with some chopped cashews and saffron strands.
Finally, serve hot or chilled as a dessert.
No wonder, this is one of the popular sweet dish and all-time favorite. Making it easy but takes time and attention. Additionally, always use a non-stick pan or heavy Karahi so, that the milk does not get burnt from the bottom. You can use basmati rice to make this recipe. No added flavors are required as the date palm jaggery gives a great flavor to it. But adding bay leaf and cardamom powder enhances its flavor and makes it much tastier too. So, make it and enjoy it with your near and dear ones.