Hima Das is truly a golden girl of India. Five gold medal in a month is just incredible. She is also an exemplary inspiration to all youngsters.
Dhing Express Hima receives congratulating notes through tweeter coming from all parts of the world. She also responds with a sweet reply. The great man like PM Narendra Modi, Cricket Hero Sachin Tendulkar, Big B Amitabh Bachchan, and also many Bollywood and cricket stars greets and praises the golden girl.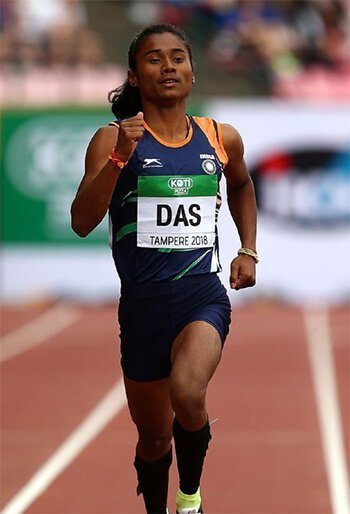 Gold continuation started on July 2 in the Poznan Athletics Grand Prix in Poland where she wins her first competitive 200m race of the year. The Assam sprinter had clocked 23.65 seconds to win gold.
Hima also procures her second international gold in women's 200m at the Kutno Athletics Meet in Poland on July 7. She completed the race with a time of 23.97 seconds to clinch the gold.
Her third International success in eleven days hit at the Kladno Memorial Athletics Meet in the Czech Republic on July 13. The 19-year-old girl ended the race with a time of 23.43 seconds.
On July 17 she clinched her fourth gold again in the 200m race. This is at the Tabor Athletics Meet in the Czech Republic with a rate of 23.25 seconds.
On July 20, Hima Das gains fifth gold of the month in the 400-meter race in the Czech Republic, recording 52.09 seconds on the clock. Besides this, in the 400-meter contest, this timing is a season-best for Hima.